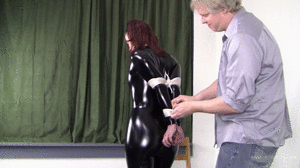 12.13.2020
I was trying to be stealthy in my tight black cat suit when I broke into the man's house, but he caught me red handed.
Mr. Andrews grabs me by the arm and the sack of jewelry I had just stolen from him in the other. He pulls me over to a chair and picks up some rope. I try to explain to him that I was just there to inspect it since there had been some recent thefts, but he's not buying it. He ties my elbows together and I try to ask him if we can come to some sort of arrangement, batting my eye lashes. I promise that I'll be a good girl.
Mr, Andrews doesn't believe me though and binds my wrists together. I'm still trying to figure out what to do when he approaches me from the side with a big wad of cloth in his hand. I try to tell him that it's too big and will never fit in my mouth, but he stuffs it in anyway. He then uses a strip of white cloth and ties a nice tight cleave gag on top of the stuffing. He has me sit in the chair, planning to tie me there as he explains that he's going to call the authorities. I beg him not too, making up some excuse about home I'm not supposed to be working this late.
My boots are tied together next. I make one more attempt coming on to him, running my bound hands over my hip and breast, sliding forward in the chair. He secures my arms to the chair, cinching them to the chair back, ensuring that I won't be going anywhere. I wiggle in the chair already unable to move, but Mr. Andrews just isn't satisfied. He decides to lash my thighs together, just above the knee then binds my legs to one of the chair legs. I squirm in the chair, wiggling it with my body.
Mr. Andrews leaves and returns with some microfoam in hand. He asks me if I'm ready to be done with the tight cleave gag and I nod yes, wanting to close my mouth and be rid of the awful thing. As soon as I start talking, he stuffs another wad of white cloth in my mouth and winds the microfoam tape around my head creating a concave area above my open full mouth. He calls the cops and finds out that there will be a bit of a delay in them arriving, it's a busy night it seems. He unties me from the chair to make me "more comfortable" while we wait in his bedroom. After me to stand, he grabs me by the arm and tells me to hop, leading me to his bed.