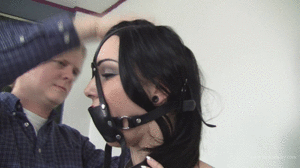 95 photos; 17:55 video
08.07.2021
Belle was wearing a short black transparent dress with red waist cincher and black pumps. She stood still for the Boss as he gagged her with a leather panel head harness. She parted her painted lips for the ball on the underside of the leather panel. The ball disappeared in her mouth, covering it with leather. Her upper lip peaked over the top of the leather. Mr. Big Boss tightened the straps, pulling the leather panel tight across her mouth. He grabbed some leather straps and pulled Belle's arms so tight together that they were laying upon each other when he was finished strapping them together.
Serene shimmied across the office floor in a tight metallic blue dress that hugged her every curve. She went over to Belle with a sly smile on her face and began to rub her hands up and down Belle's body. Mr. Big Boss handed her a leather strap and instructed her to strap Belle's ankles together. Serene made sure to make the strap as tight as possible, leaving Belle slightly off balance in her high heels. It was Serene's turn next. The Boss laced her arms together in a leather ledermeister arm binder while Belle teased Serene. Mr. Big Boss then gagged Serene with a 2 1/4th inch ball gag head harness. Belle watch inquisitively while the Boss shoved the huge ball into Serene's mouth. He strapped her ankles together with a leather strap, as well. Once he was done with her bondage, Serene and Belle started to play with each other. Serene scooted around Belle, rubbing her leather encased arms up and down Belle's body. Belle's bound hands traced Serene's curves and roamed over her ass. While they were entranced with each other, I walked in to the office...
I was wearing a black latex catsuit with matching waist cincher and red pumps. I walked over the two latex clad secretaries and ran my hands over their assets. Mr. Big Boss grabbed some rope and got started pinning my arms together behind my back. Serene curiously watched, squirming in her leather. Belle decided she wanted to play as well and walked up to where I was standing. She soon found herself the middle of an Elizabeth and Serene sandwich. The Boss gagged me with a 2 inch ring gag head harness. As soon as the ring was put into my mouth, to pry my lips apart, I started to drool. My stability worsened when the Boss tied my ankles together. But that didn't stop me from trying to the other two women.
The Boss left the day dream and it was only the three of us left. We rubbed ourselves on each other, reveling in the sensation of the rubber rubbing up against rubber. Serene's gloved hands found their way to my breasts just as a long drool string came rushing from my bottom lip. Belle's hands were rubbing up and down Serene's ass at the same time. Belle found herself in the middle of us again. We thrust our curves into one another, enjoying the sensation of so much latex. I traced my tongue over Belle's nipple ring that was barely visible through the black transparent latex. Serene rubbed her ballgagged face over her other nipple and a smile peaked through Belle's panel gag. We all laughed behind our gags. Serene and I leaned our heads against Belle and the day dream faded.